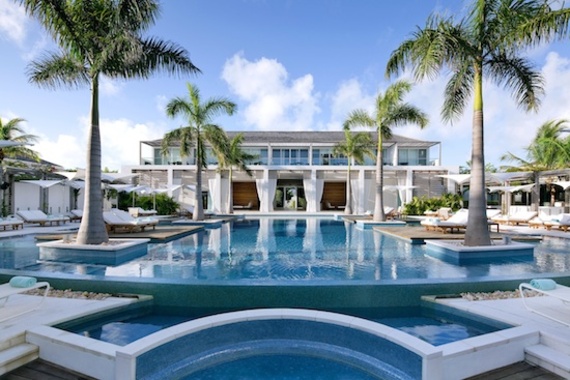 A change of scenery always inspires and motivates! Spinning seems more fun when it's held in a glass tree house with views of the Caribbean Ocean. A quick getaway to Saint Lucia, Turks + Caicos, Puerto Rico or Aruba can offer a refreshing break to help reset your fitness and dietary behavior to get your body fit. Four Caribbean properties have the programming, atmosphere and scenery to help you get in shape for summer. Check out 4 Caribbean fitness getaways.
1. The BodyHoliday, St. Lucia
Get back in shape before swim suit season at The BodyHoliday, Saint Lucia's all-inclusive premier health and wellness resort. The property gives guests the opportunity to create their own customized fitness itinerary – whether you want to try the "Lose It, Tone It" program, the "Beat the Bloat" program, or simply partake in the unique daily fitness activities, including Spoga (Spin + Yoga) at the new sky-high Tree House spin studio. The resort is also offering unique upcoming fitness retreats, including Jive June, the resort's dance-a-thon inspired program, and Well Fit Families, a week-long family beach bootcamp designed to challenge and bond families.
2. Gansevoort, Turks + Caicos
Combining your desire to get fit with your love for travel, the "Get Fit" four night getaway for two offers famous exhale core fusion classes in a beachfront open air yoga pavilion, fusion massages in tranquil treatment rooms with a signature spa drink (perfect for those newly-challenged muscles!)
3. La Concha Resort, San Juan
Take your pick of refreshing fitness classes from spinning to Pilates at La Concha Resort, San Juan's quintessential beach hotel. With the recent launch of its Signature Wellness programs created and directed by renowned fitness expert, Ana Paula Azirovic, guests now have access to classes, team building exercises, personal training sessions and meditation instruction. Ana Paula works directly with business and leisure travelers alike to book appointments and tailor experiences for individual and group travelers.
4. Hyatt Regency Aruba Resort & Casino, Aruba
Located on 12 acres of magnificent beachfront property on Aruba's world-renowned Palm Beach, Hyatt Regency Aruba Resort & Casino is the ideal destination for vacationers looking to stay fit. Guests can take advantage of activities offered by Aruba's premier watersports company, Red Sail Sports, located on property. Options like windsurfing and kiteboarding provide full body workouts–especially challenging the core and arms for balance and control– with twice the fun. For those preferring to stay dry, the boardwalk that runs along Palm Beach is a perfect running path with beautiful ocean views. Plus, guests have 24 hour access to the Hyatt Aruba's indoor fitness center with treadmills, bikes, and resistance training equipment. Following a workout, guests can treat themselves to rejuvenating spa treatments at the hotel's ZoiA Spa.